We aren't just private investigators; we are also process servers.
We offer a broad range of legal support services to paralegals, lawyers and law firms. Over the past 16 years, Telematics-Online Research and Investigation has assisted hundreds of clients and has been a conduit for out-of-province and international law firms who need service of process in Saskatchewan or elsewhere in Canada. We have also assisted many domestic clients who need legal documents served internationally using our vast network of contacts.
Locally, our office typically receives the "hard serves" when other avenues have evaporated which require an investigative component such as a real-time locate. We are often called to assist in the location of parties who go underground to avoid service as a latch ditch effort which "the other guys" haven't been successful or on matters which have an impeding deadline looming where a unique approach is required.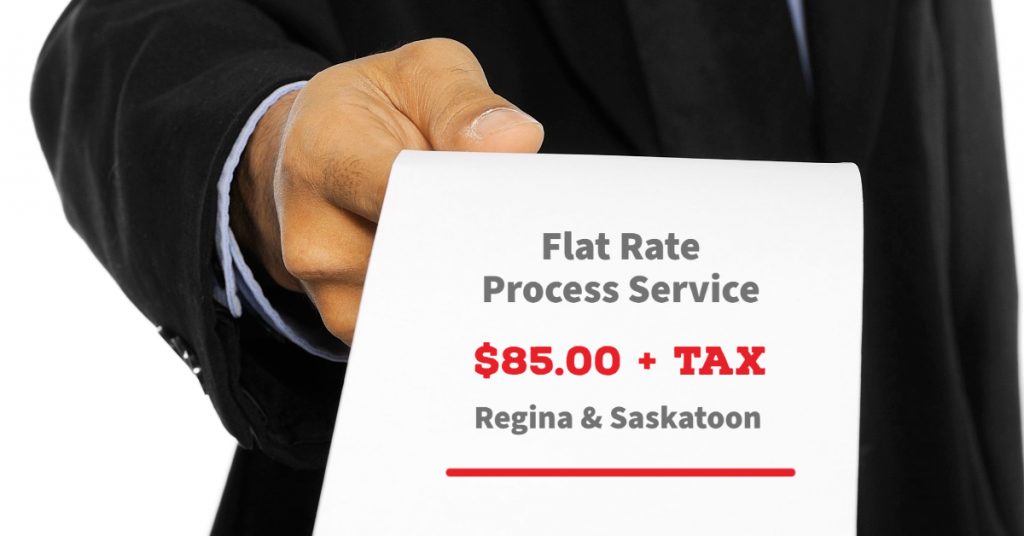 We want you to try us out for your day-to-day process serving needs. We want to be your go-to Regina process server or your go-to Saskatoon process server. We offer prompt, discreet, and efficient delivery of your legal documents. Our staff will work diligently on the delivery of your legal documents to the appropriate party – whether it be an individual, corporation, solicitor or other legal entity.
We are happy to announce an affordable flat rate service for Regina and Saskatoon*. No nickel or diming, no hidden fees. For $85, we will serve any party in Regina or Saskatoon within 7 days of receipt. We truly want to earn your trust and your business.
This flat rate service includes the following:
Electronic Receipt of Documents;
Personal Service (up to 3 attempts);
Printing/Preparation of Documents (up to 10 pages included, additional pages for an additional fee);
Preparation of Standard Affidavit of Service or Attempted Service (or supplied affidavit of service/attempted service prepared by lawyer/law firm);
Sworn Affidavit of Service/Affidavit of Attempted Service (inclusive of commissioner for oaths fees);
Travel within Regina or Saskatoon City Limits; and
Electronic Delivery of Affidavit of Service.
What this flat rate service does not entail:
Location/Skiptracing;
Standby Time;
Additional Attempts of Service (over 3);
Travel outside of Regina or Saskatoon City Limits;
Expedited/Rush Service;
Disbursements for Preparation or Printing (over 10 pages); and
Photograph or Video of the Service.
We will also be introducing a loyalty program. For every 8 documents served by your firm, the 9th serve is on us. Of course we'd be happy to discuss our many other service options and can provide an updated list of references upon request. ADDED BONUS: We will serve the first document to new clients only (1 offer per law firm) for FREE! Yes, your firm can try out our services for free!
Contact us today for a free consultation! Give us a call and let's chat about your needs and how a licensed private investigator can help.
*Some conditions apply. First free document offer available to new law firm clients only. Contact us for details. This offer is valid from May 25, 2020 to June 30, 2020. Although our flat rate may change at that time (our fees are reviewed quarterly), we will still be offering a flat rate fee and loyalty program to meet the needs of our clients.