Telematics Launches New Website (and Blog)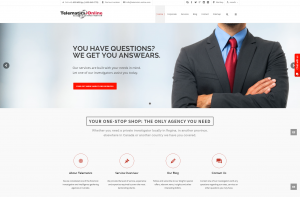 Telematics-Online is pleased to announce the launch of our new website and this blog called Off The Record Journal (more on that below)! Although there is still a great deal of content left to write, code to debug and pages to add to the ever-evolving project, the foundation has been poured and the inner structure has been built (caveat: CSS for links are still buggy so anything between *'s is a clickable link). All primary pages are now live on the *Telematics-Online.com* domain.
It's hard to believe I coded and launched our first website (*remember this old relic?*) in 2003 using an HTML for Dummies book (which I still have somewhere) when startup capital was basically non-existent. I look back at the evolution of our past websites, the evolution of the Telematics-Online Research & Investigation branding and my own personal CanadianPI Moniker (and the associated sub-brands) and it had me thinking about the evolution of my own career as a private investigator.
As I reflected about the course of my 14 years career, I have seen many evolution's in the industry and like most, I have many memorable investigations and been involved in incredibly unbelievable (no links for those – bound by privacy laws) and some downright scary situations (shotgun to the head is definitely near the top).
I also have some great memories from *taking the oldest boys to work day* (I've found kids make excellent decoys while on surveillance) to *assisting clients with very personal issues* that effected change at the very highest levels. Overseeing investigations in over 100 countries, I have been fortunate to meet many colleagues and acquaintances from around the world who I call now consider friends (*Ari Morse*,  *L. Scott Harrell*, *Dean & Karen Beers*, *Ruben Roel* & *Phil & Yin Johnson* come to mind – there are many dozens more). If you're a PI long enough you eventually cross paths with others who have ruined their careers and hurt the reputation of the entire industry by *getting themselves incarcerated* or that have been taken from us far too early meeting tragic ends. RIP *Fidel* (warning: graphic video) & *Martin*.
There's a new buzzword floating around right now, *"Xennial"*.  A Xennial is described as a micro generation born between 1977-1983 during the cusp years of Gen X'ers and Millennials. They experienced an analog childhood, digital adulthood and therefore are conditioned to hold both Gen X cynicism and Millennial optimism and drive. I fit into this category which I think offers me a unique perspective on evolution and brings me to my next point. Investigators need to be flexible, smart, tough and adapt well to change in order to make it in this business.
"Change is inevitable. Growth is optional." ~ John C. Maxwell
I remember the days when print and yellow page advertising and a Rolodex of confidential sources were the keys to success before the explosion of social media more than a decade ago (I was happy to say I was on the ground level of that explosion under the *CanadianPI branding* which had over 50,000 followers, likes, subscribers and fans). I still remember the days when a PI was either "pounding the pavement" or "pushing paper" in order to make it before technology took the front seat. I was one of the lucky ones who had a 20lb laptop and air-card while I did this.
This brings me full circle back to the Off The Record Journal. Whether this is your first time visiting a piece of online real-estate I operate, whether you're an old colleague, past client or someone who's followed me for as long as I've been around, I'd like to say welcome or welcome back! I've been the face of Telematics-Online Research & Investigation and the CanadianPI branding for a very long time. Although I'm not as active on Social Media as much as I once was, it doesn't mean I don't stop in for daily updates. Much of my time is now spent on other interests including coaching and mentoring. I miss writing (*an old piece I wrote for Pursuit Magazine*) and this spot will be that forum in the future.
I'd like to thank you for stopping by. Please take a moment to look over our website and tell us what you think in the comments section. Don't forget to subscribe to our newsletter.
My very best,
J. Ryan Winter | CanadianPI
Managing Director | Lead Investigator
SK PI Lic.#: 5627 | Agency Lic.#: PD336